Description
The BulletSafe Bulletproof Vest has been discontinued.



*With permission from Mr. Williams
The BulletSafe Bulletproof Protective Vest is a high quality level IIIA vest that gives your body protection against all handgun rounds, effectively up to a .44 magnum! This is the most affordable brand of soft body armor we've ever found. The reason it is so affordable is because the manufacturer, BulletSafe, reduces costs by eliminating customizations. It only comes in one color (black), is not custom-fit, and no special requests are taken. That makes for a great vest anyone can afford!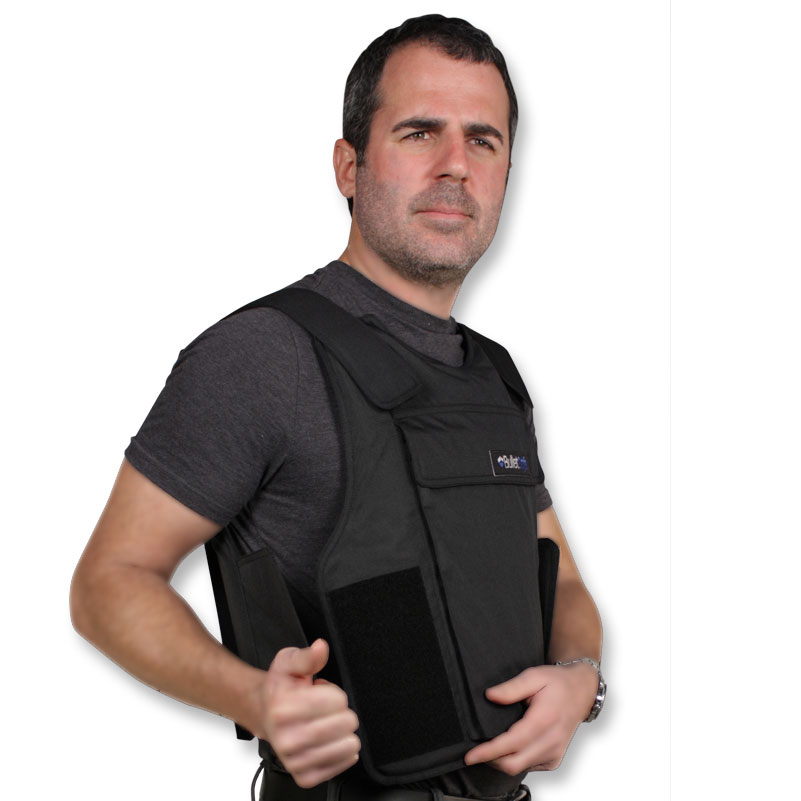 The vest is easy to put on and take off. There is no need to "re-adjust" your vest if you let someone else borrow it (e.g. swapped around by fellow security officers or friends). And unlike a lot of other bulletproof vests, this one will not tug on your neck (as you can see from the pictures). This gives you better comfort when walking or stooping down. The upper straps and those on the sides give you the ability to set the vest up to where you are most comfortable.
Because the BulletSafe bulletproof protective vest is soft body armor, it works great as a concealable option. It can easily be worn under a shirt, keeping you safe where-ever you go.
Don't know if you need a bulletproof vest? If you work or live in dangerous areas, it's definitely a life saver to have one. These vests are especially great for police officers, security guards, tow truck drivers, EMTs/paramedics, gas station attendants, park rangers, volunteers, hunters, gun enthusiasts, preppers, bank employees, and many others!
WARNING: Bulletproof vests are legal in all 50 states, but as per state law we cannot ship to Connecticut. Transfer of body armor has to be local.
Need better protection? Add a Strike Face Ballistic Plate and upgrade your vest to withstand armor piercing rounds! (e.g. AK-47 and AR-15) Level IV protection is the highest you can get.

The BulletSafe vest comes in a variety of sizes, depending on a person's height and weight. Look over the chart here to see what would be the best fit for you. Get a vest from us that is too big or too small? Send it back and we'll get you the right size! In addition, there is a five year warranty on the vest. If you ever have any parts of it become defective, let us know and we'll send you a new one.
BONUS: If by chance you ever get shot, send us your old vest and we will give you half of what you originally paid!
Check out our ballistic plates and backpack panels for children too!