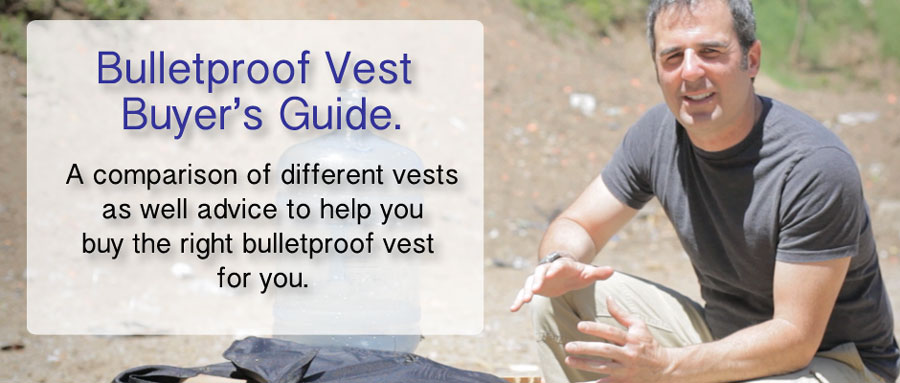 Bulletproof Vest Buyer's Guide - A quick guide to help you choose the right bulletproof vest.
Brand

Protection Level

IIIA (3A)

IIIA (3A)

IIIA (3A)

IIIA (3A)

IIIA (3A)

IIIA (3A)

IIIA (3A)

Price

$299

$862

$1069

$520

$599

$399

$938

Sizes

S,M,L,XL, XXL

Custom

Custom

S,M,L,XL,XXL, 3X ($570), 4X ($620)

XS,S,M,L, XL,XXL

XS,S,M,L, XL,XXL

S,M,L,XL,XXL, 3X

Test Passed

NIJ 0101.04 Level IIIA

NIJ 0101.06 Level IIIA

NIJ 0101.06 Level IIIA

NIJ 0101.04 Level IIIA

NIJ 0101.04 Level IIIA

NIJ 0101.04 Level IIIA

NIJ 0101.06 Level IIIA

Weight (approx, for a Large)

5.5 lbs.

5.0 lbs.

5.0 lbs.

6.5 lbs

5.0 lbs.

Not Listed

6 lbs

Pockets for Upgrade to Level IV

Front & Back, 10" x 12"

Front & Back, 7"x9"

Front & Back, 7"x9"

Front & Back, 10" x 12"

Front & Back, 10" x 12"

Front & Back, 8"x10"

Front & Back, 8"x10"

Order Online

Yes

No - Custom fit means a 4-6 week delivery time

No - Custom fit means a 4-6 week delivery time

Yes

Yes

Yes

30 Day wait

Available to Retail Stores

Yes

No

No

No

Yes

No

Yes

Toll-free Support

Yes

Yes

Yes

No

No

Yes

Yes

Liability Insurance

Yes

Yes

Yes

Unknown

Unknown

Unknown

Yes

Legal US Adress Provided

Yes

Yes

Yes

Yes

Yes

Yes

Yes

Carrier Construction

Durable Nylon

Nylon, Litelok, Antimicrobial

Nylon, GORE-TEX, APEX

Cordura Nylon

Durable Nylon

Polyester/Cotton

Pollyester/Cotton

Condition

New

New

New

New

New

New

New

Country of Origin

China

USA

USA

Unknown

Unknown

China

USA

Overall Grade

A

C

C

B

B

B

D-

Pros

Price, Function, Features

Custom Fit

Custom Fit

3X and 4X sizes

Nice Vest

Nice Vest

Offered in 3X

Cons

Only tested, marketed, and sold by a US company.

It costs how much??? Price, Waiting Time, Small Plate Pockets

What is the price? Holy Cow! Price, Waiting Time, Small Plate Pockets

The

Bulletsafe

vest offers a similar vest for much, less.
How to decipher the bulletproof vest buyer's guide: This bulletproof vest buyer's guide will help you if you are looking for a bulletproof vest. There are hundreds of different bulletproof vests, but which one is right for you? Let's discuss the terms in our guide and see if it will help you decide.
Protection Level: Not all bulletproof vests are created equal, but they are all tested using the same method. Depending on how well a vest does on the test, it is assigned a protection level. The higher the number, the more protection you are afforded. It should be simple, but they stuck the letter A into the mix and messed it up, so the protection levels go: IIA, II, IIIA, III, IV. So an "A" actually means that it is less protection than the same level without the A. Our buyers guide only includes level IIIA vests because we think this is the level of protection everyone should buy. Level IIA and Level II vests won't protect you from common handgun rounds like a .40 S&W or a .45, and those guns are everywhere, so level IIA and Level II vests were omitted from the buyer's guide. This explains why all of the vests on our buyer's guide table meet the level IIIA test.
Price: The price of a bulletproof vest is very important because if you cannot afford a bulletproof vest it will never save your life. We put this category second only to protection level. Read the other categories too, you'll want to make sure you aren't giving up too much by buying the best value vest.
Sizes: Some vests come in standard sizes while some vests can be ordered to fit anyone. Companies that cater to police forces usually offer more custom sizing to fit every officer. If you have to have custom sizing expect a wait as your vest will have to be made after you provide your measurements, and expect a price increase due to the custom nature of the work. If you can fit a standard size, you will save yourself time and money when buying a bulletproof vest. Sometimes companies charge a little more when you need a 2X, 3X, or 4X. This seems fair to us as there is more ballistic material in larger vests.
Test Passed: All of the vests listed have passed the National Institute of Justice's test: NIJ 0101.06 Level IIIA. It is the global standard for ballistic protection. Vests that don't have proof of passing this test were not included in the test.
Weight: This is the approximate weight for every vest. Some brands give the weight for a size large, some medium, and some small, so we don't believe these weights are exact, but they are approximate.
Pockets for Upgrade to Level III & IV: We chose to show only vests that included pockets to hold upgraded body armor. Pay attention to the size of the pockets. Larger pockets allow larger plates.
Can You Order Online?: Many people will want to order their vest online. It should be easy to order a bulletproof vest as long as you live in a U.S. state other than Connecticut and have not committed a violent felony. Connecticut only allows face-to-face sales of body armor. Felons are not allowed to possess body armor and it is illegal to export bulletproof vests. Other than that, anyone else in the U.S.A. can legally own a bulletproof vest and should be able to buy it easily online.
Are They Available To Retail Stores: It is nice to be able to buy your vest locally where you can try it on, feel it, and take it home that day. If you want to buy your vest from a retail store, look for this. If you don't see BulletSafe.com vests at your local gun store or gun range, suggest to them that they give us a call. We are happy to have a new wholesale customer and we'll make sure you can still get your vest inexpensively and your local shop can continue to thrive.
Toll-Free Support: Having a toll-free number is a good indication of how willing a company is to hear from their customers. Look for a toll-free number from any online companies you deal with.
Liability Insurance: Police departments require $500k in product liability insurance before they will buy a vest. Insuring a bulletproof vest company against product liability is expensive, so some companies don't do it and would likely just declare bankruptcy in the case of a product malfunction. Look for a company that is structured to stand behind the product they sell. Bulletsafe vests have a $1M policy against product liability.
Legal US Address: We didn't list any companies in our buyer's guide that don't provide their legal address. Importing body armor isn't easy, and ordering from a company outside the US may result in your items being seized by customs.
Carrier Construction: What is the outer vest made of? Look for a durable material first and if you can afford it, look for a material that will keep you cool. If the vest itself doesn't offer cool construction, many people wear a t-shirt underneath that is made of a wicking fabric. They can be purchased for under $20 with brand names like Underarmor or Walmart sells one called Athletic Works.
Condition: We listed only new vests. Many people consider the lifespan of the ballistic materials in a bulletproof vest to be 5 years, while some consider it to be 10. Either way, bulletproof vests do not last forever. Buying a used one is like buying a used car battery or used tires. Most of the used vests on the market are former police vests that have been sold at the end of their useful life. These vests have been used daily and exposed to moisture and sun, the two things that degrade the aramid materials of a bulletproof vest. Some retailers try to sell you a brand new carrier with used ballistic materials. That is like selling a used tire with a fresh coat of armor all. The aramid fibers inside the vest are what degrade, a new carrier does nothing to reset the age of the vest. This is why we only listed new vests in our buyer's guide.
Country of Origin: Bulletproof vests are a fabric product. The carrier is sewn and the ballistic layers inside are woven and cut. You can source these things in the USA, but they are cheaper and of comparable quality from outside the US. A typical vest consists of over 60 pieces, so the cost increase to create these vests in the US is striking. If you can afford it though, it is a great example of patriotism. Keep in mind that the technology behind bulletproof vests isn't secret nor is it particularly American, so the vest you get from outside the USA will work just as well as the American model.
Overall Grade: We gave the vests listed an overall score.
Pros: Here we mention our favorite features of each bullet resistant vest.
Cons: In this area we list things we are unhappy about with each vest.
What isn't included in the guide: Level III and IV vests usually require hard armor plates, and you may want that, so we also included only vests that allow you to install hard armor plates. Some vests don't have pockets for upgrading. We excluded vests without pockets.
A "plate carrier" is a type of vest that doesn't provide any ballistic protection but does provide pockets that carry armored plates. Plate carriers allow you to easily wear only the hard plates that would provide level III or IV protection, but plate carriers don't offer enough protective area for most people. This is why most police officers wear a flexible vest. Plate carriers don't meet the needs of police forces and probably won't meet your needs. Armored plates are expensive, heavy, and inflexible, so trying to protect yourself well with a number of plates in a plate carrier isn't an ideal solution. To simplify our guide, we omitted plate carriers as well.
Courtesy of BULLETSAFE